Canadian Trapshooting Association
The Canadian Trapshooting Association (CTA) is a non-profit association established in 1956 to host the Dominion of Canada Trapshooting Championships. This tournament became the premier annual trapshooting event for Canadian trapshooters, awarding the country's Amateur Trapshooting Association (ATA) Champions. It also served as a qualifier for the Canadian Olympic Trapshooting Team selections prior to construction of Canada's first international trap range.
The first CTA Championships were held at the original Calgary Gun Club in 1956 and the following year the tournament was held in Harrow, Ontario. Over the years, the CTA has hosted some of the best local and visiting shooters from across North America, including many who have been named to provincial and the ATA Trapshooting Hall of Fames.
The CTA is made up of a volunteer board of directors from across Canada who represent trap organizations in their own regions. The board is selected through a general membership vote based on the candidates' qualifications and contributions to the sport. Please join us at our next general meeting, held annually during the Canadian Trapshooting Championships.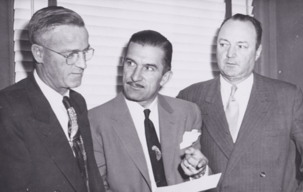 Founding Executive, (left to right) Harold Herron - Alberta Provincial Trapshooting Association,
Thomas Oliver Jr. - CTA Chair Pro-Tem, Don Blow - President Calgary Gun Club.
Not pictured is James Boa -CTA Secretary.