2023 Canadian Trapshooting Championships
Brandon Gun Club. Brandon, Manitoba.
June 28 - July 2, 2023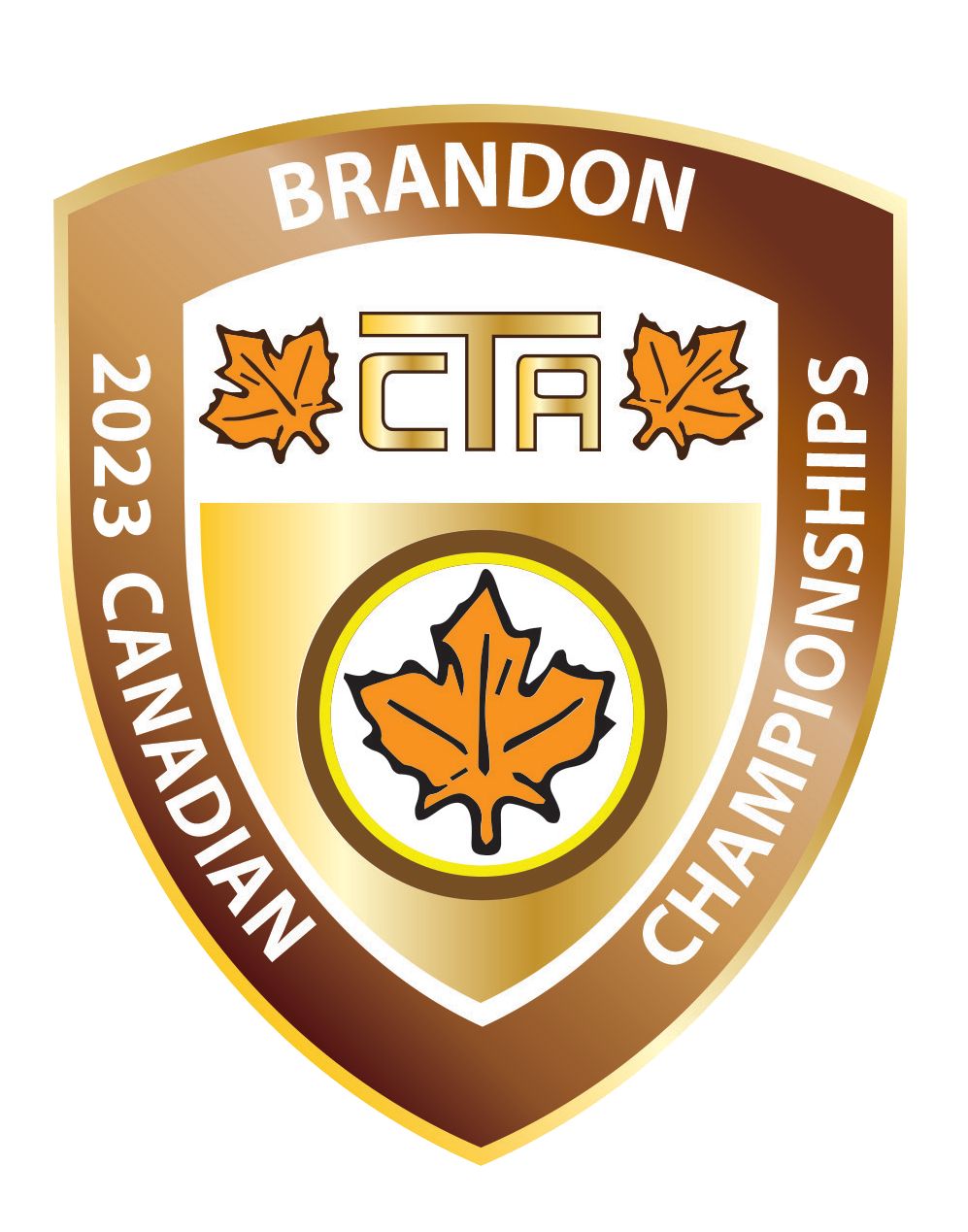 The Host Club
The Brandon Gun Club in Brandon, Manitoba hosted the 2023 Canadian Trapshooting Championships June 28-July 2, 2023.
The 10 trap facility has been at the current site since 1962 and the clubhouse was rebuilt in 1995 after it was destroyed by a fire just months before they were to host the 1995 Canadian Trapshooting Championships. The grounds are well kept and the 4000 square foot clubhouse is large enough to seat 100 plus. The club also underwent an upgrade to their trailer sites prior to the shoot. The club is located just south of the city and has plenty of accommodations and restaurants nearby.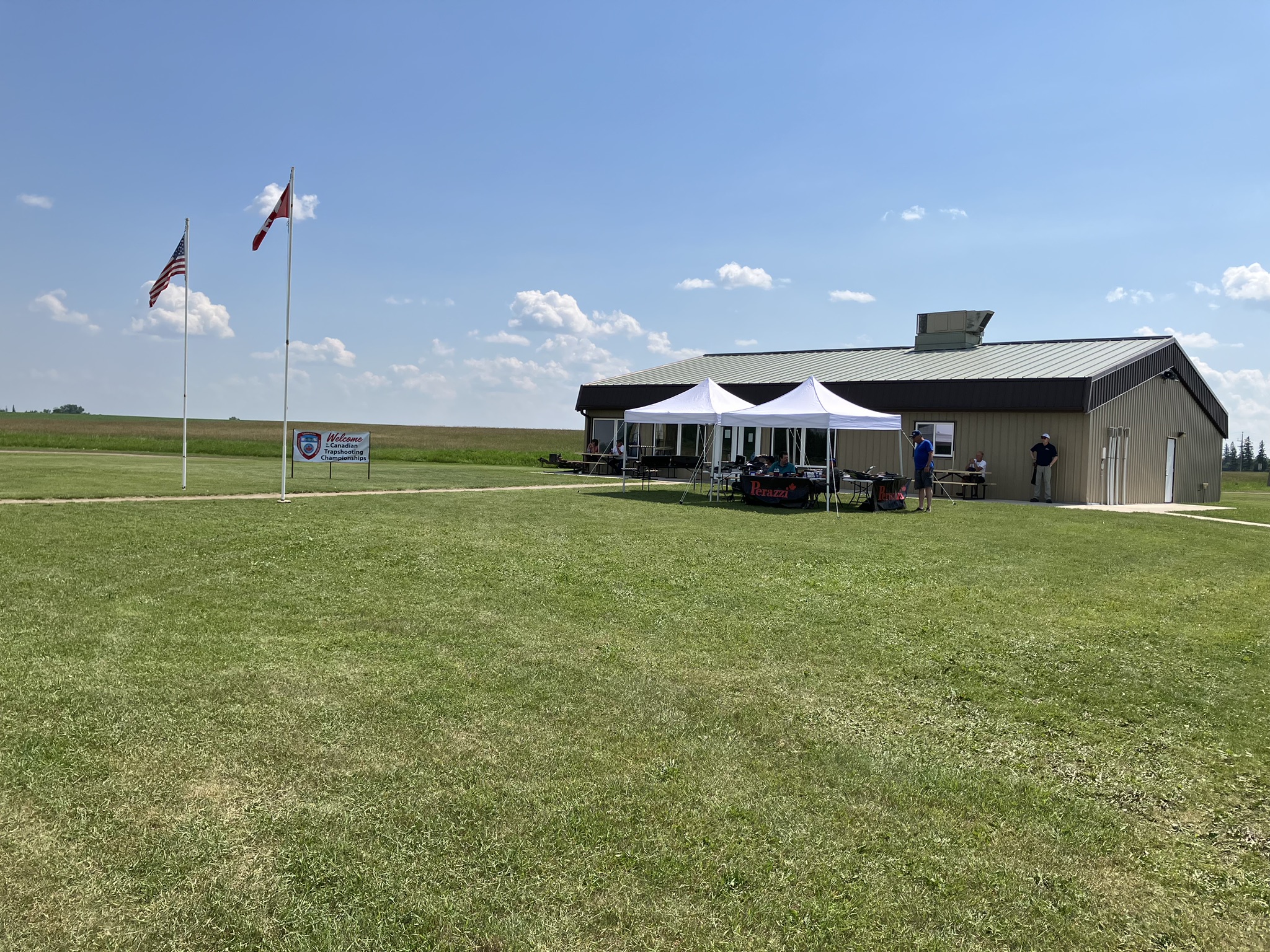 The club also recently completed renovations on all 10 traphouses. Their goal was to provide the most consistent target possible across all 10 fields. The club's background is largely unobstructed and targets fly across a mostly sky background. In short, it's a great place to shoot. The Brandon Gun Club is also known for their well run shoots.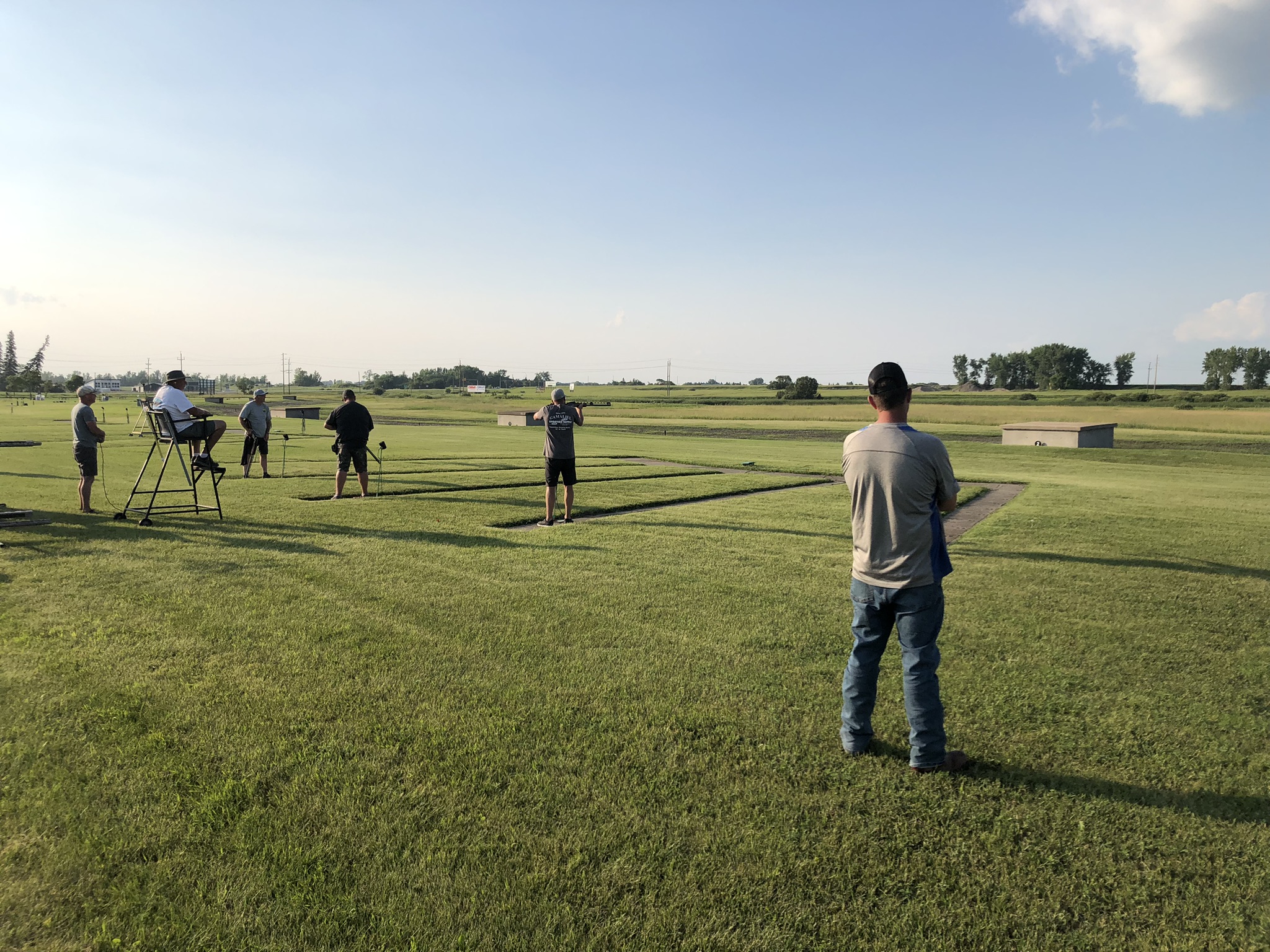 This year's shoot started off with a doubles marathon on June 28 and was followed by a 4 day, 1000 target competition. In attendance were shooters from British Columbia, Alberta, Saskatchewan, Manitoba, Ontario, the Atlantic Provinces and a number of American visitors from North Dakota.

Preliminary Days
The Kahl Boll Singles started off the shoot on June 29. AA shooters Ritchie Joynt, Shawn McNeil and Pat Lamont shot 100s with McNeil securing AA Class honours with a 25 straight in the first carry-over sub event. A 6 way tie for A Class with 98s was won by Randy Hunt.
Rob Lamont's 98 in the Pat Lamont Handicap won top spot honours. Pat Bourns and Ritchie Joynt both shot 96s and finished Runner-up and 3rd after their shoot-off. Randy Hunt won 4th place with a 95 and Larry Ivany claimed 5th place with his 94.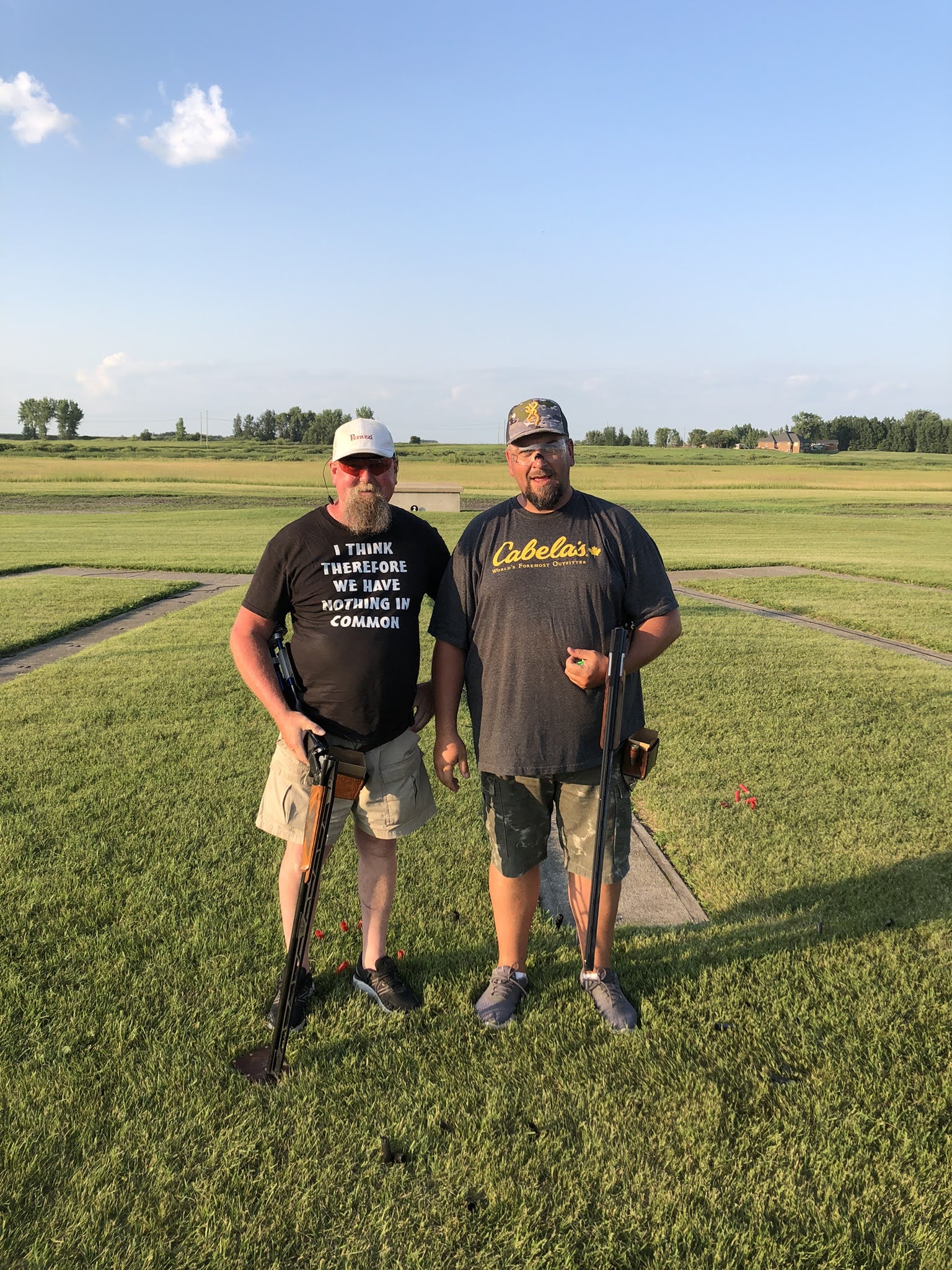 In the the Pat Lamont Doubles, Pat Lamont's 99 was good for high score and AA Class Champion. A through D Class winners were Tom Foss, Paul Adriaansen, Trevor Dawe and Richard Bootsveld.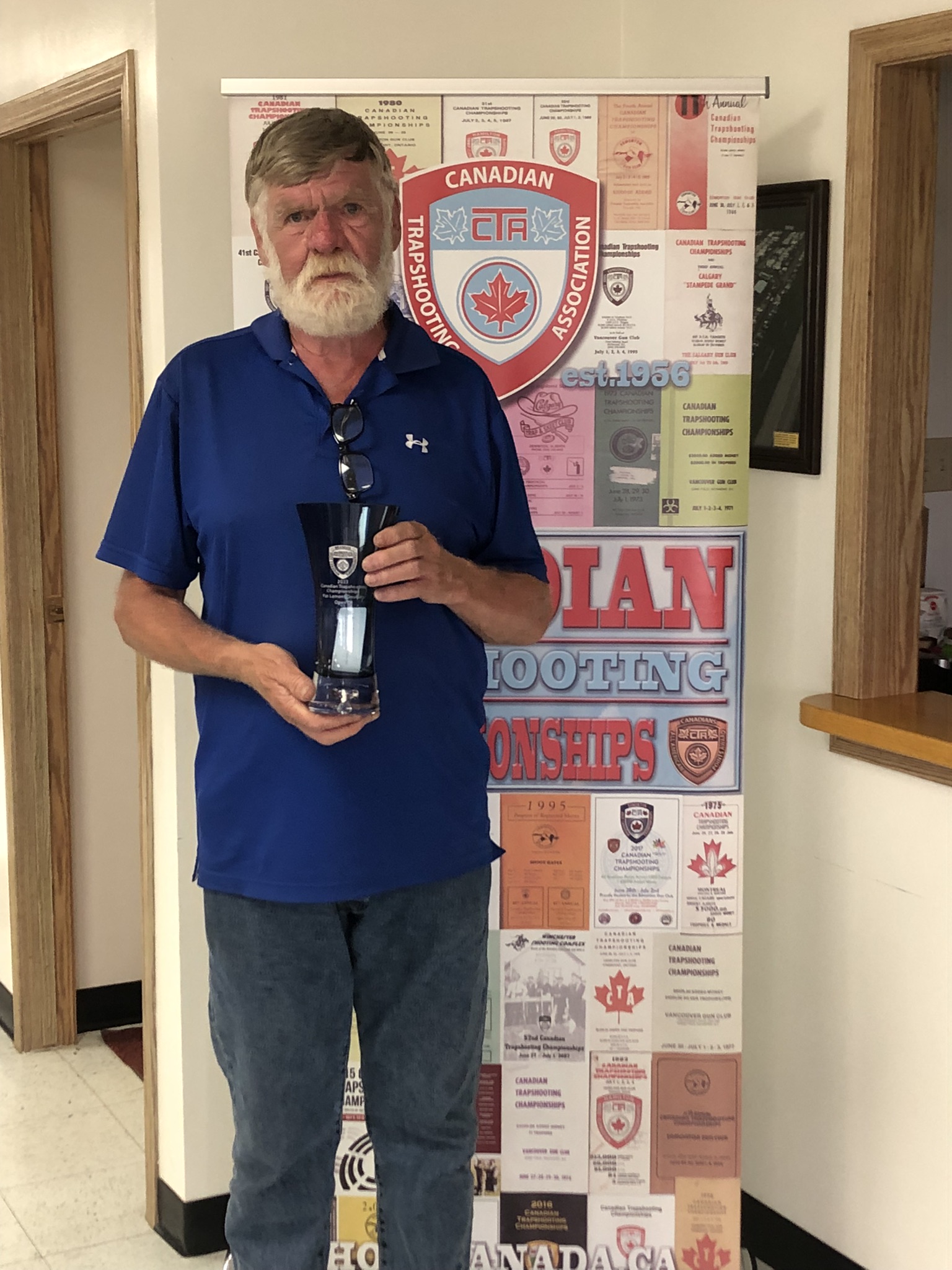 There was a total of eight 100 straights in Friday's CTA Singles, including seven in AA Class. Garry Hill won AA Class after the carry-over scores were tallied and Reg King's 100 in A Class was uncontested. Cameron Schole won C Class over Dom Stevens in the carry-over after both shot 97. Clare Whitmore won D Class after over Vern Rempel who both shot 92s.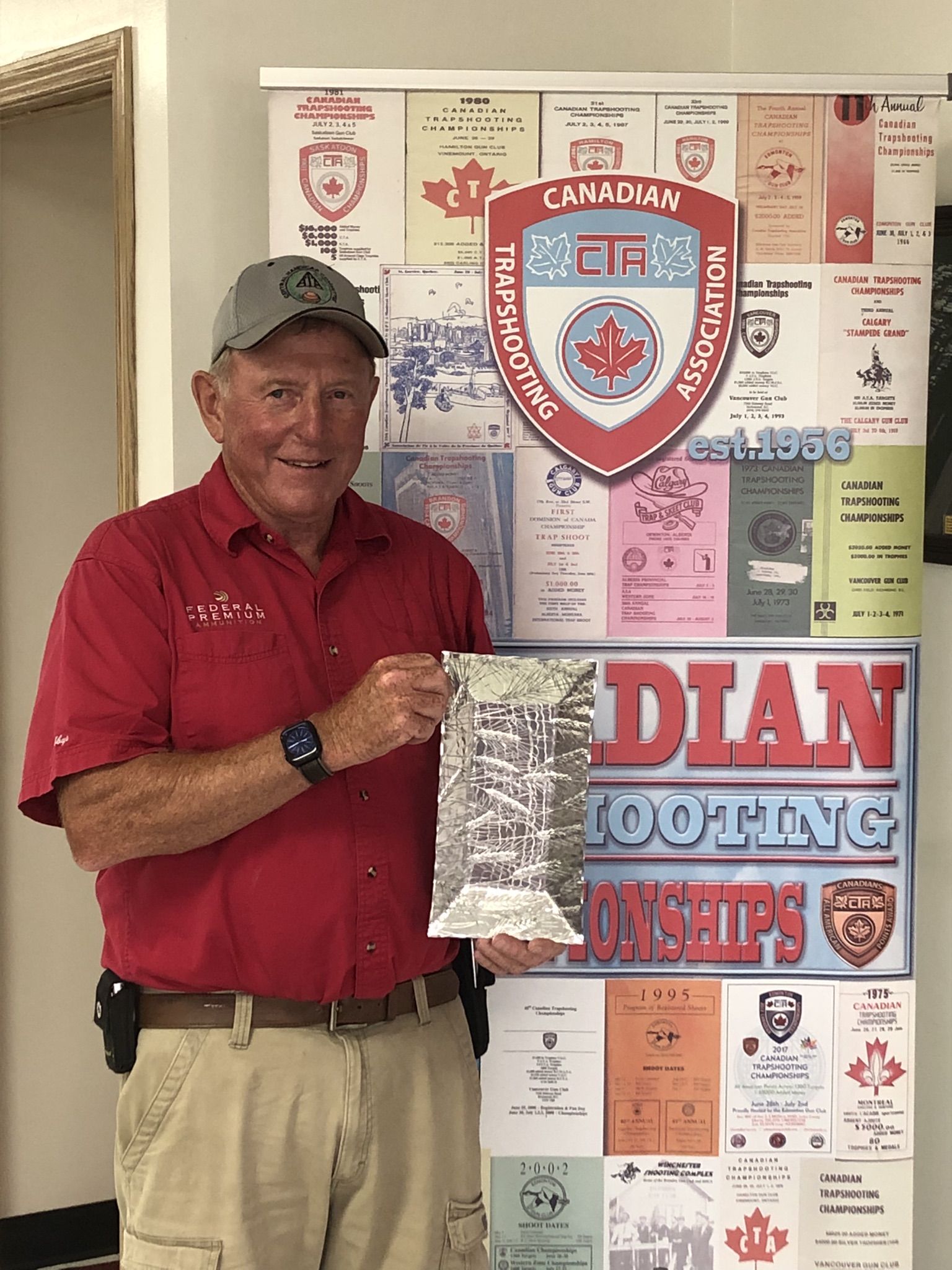 Pat Lamont won AA Class in the Class Doubles with a 98. Barry Johnston's 98 was good for A Class and Keith Morrison, Barry Gordon and Dale Shackleton claimed B through D Classes.
In the Preliminary Handicap, Pat Lamont and Brad Johnson tied for Champion with 99s. Lamont won Champion with a shoot-off win. John Nuttall won 3rd place with a 98 while Barry Johnston took 4th with his 97 and a shoot-off win over Ritchie Joynt who took 5th place. Peter Tucker, Terry Rathwell, Logan King, Harrison Yurkiw and Julia Marthhaller all shot 96 and earned ½ yard punches.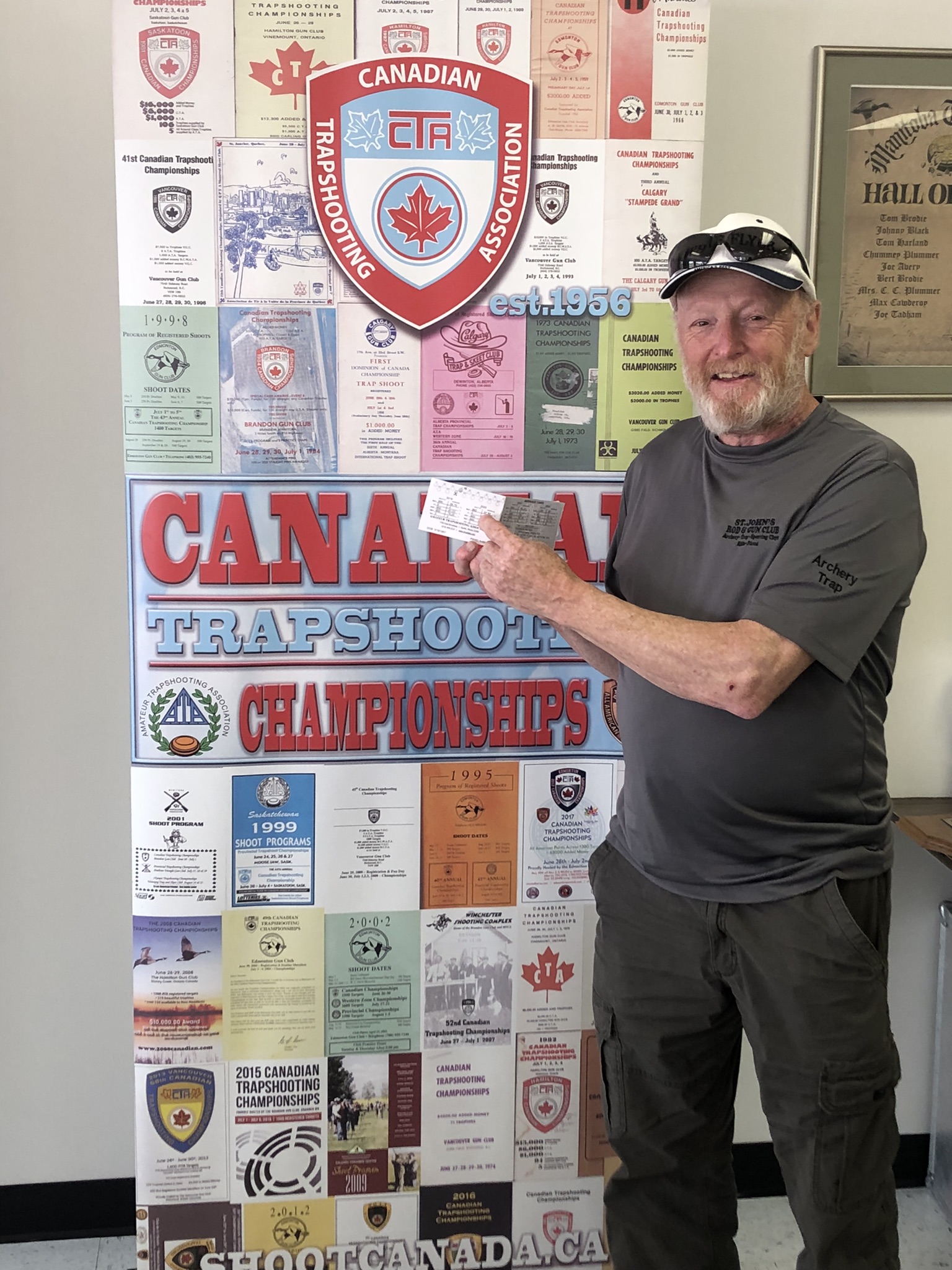 The Canadian Cap Challenge was made possible again this year thanks to very generous sponsors. The DVine Trap Range, Canadian Trapshooting Association, Brandon Gun Club and a group anonymous Manitoba shooters donated the $5000 purse to the top provincial team, chosen by selecting the top 5 scores, in the Preliminary Handicap. Congratulations to Team Alberta who edge out Team Manitoba by 3 targets to win this year's purse.
Championship Events
Canada Day celebrations started on Saturday, July 1 with the Canadian Singles Championship. At the completion of the event, it was Pat Lamont and John Nuttall tied with 200s. Lamont won his 7th Singles title after his shoot-off win. Nuttall won Veteran Champion as his score also qualified for top score in the category. Lamont also won the Canadian Doubles Championship for the third year in a row, Runner-up in the Handicap Championship and the HAA and HOA. Nuttall went on to win Veteran in the Doubles and High All Around Championships.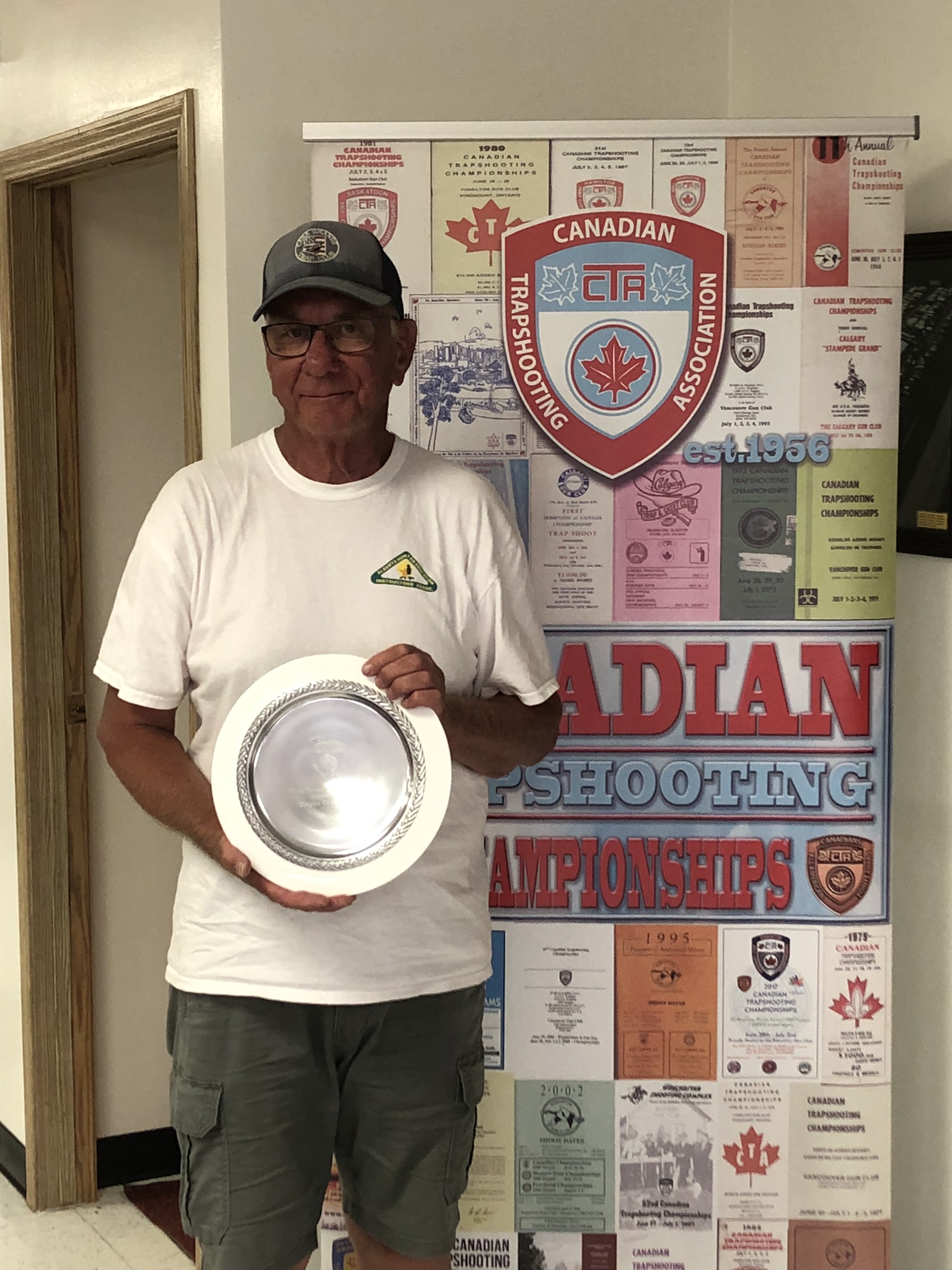 Just one target behind Lamont and Nuttall in the Singles Championship was Garry Hill. Gary posted a 199 to win Senior Veteran. Tim Kachmarski and Troy Coldwell tied with 198s. In the shoot-off, Kachmarski's 25 to Coldwell's 24 secured him Open Champion leaving the Runner-up spot for Coldwell.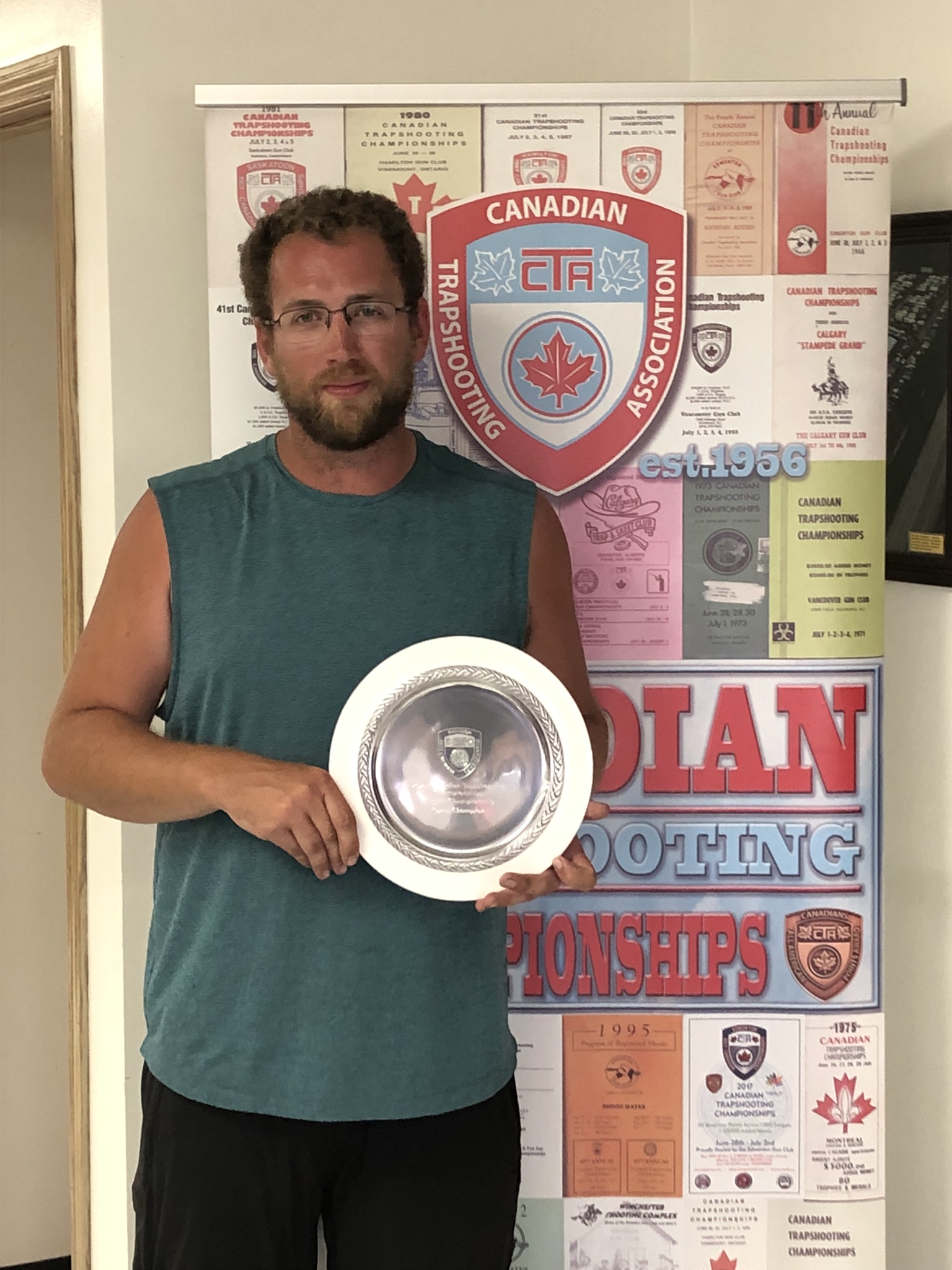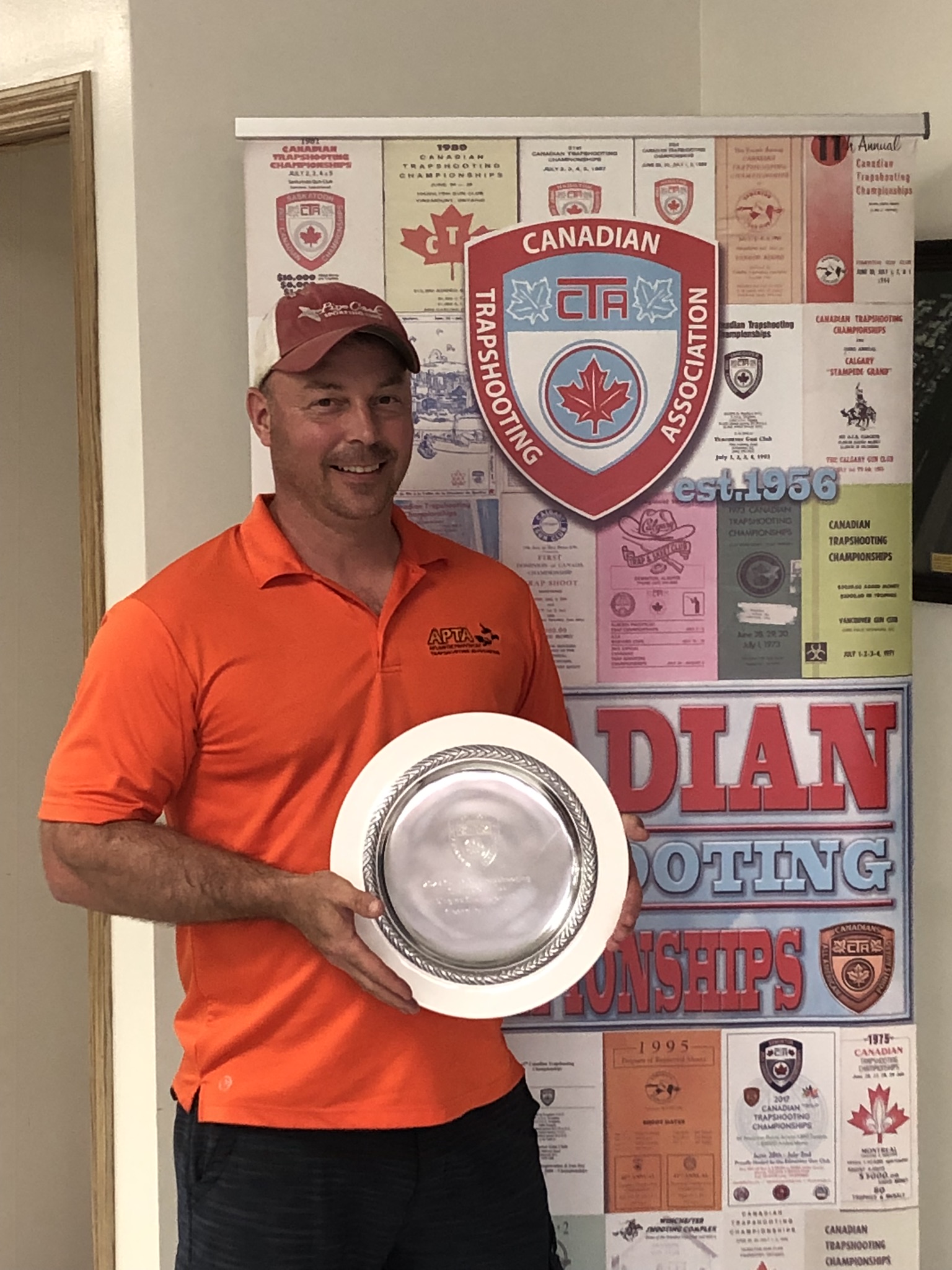 Julia Marthaller shot a personal best of 197 to win Sub Junior award in the Singles Championship. Julia also won Handicap and High All Around Sub Junior awards.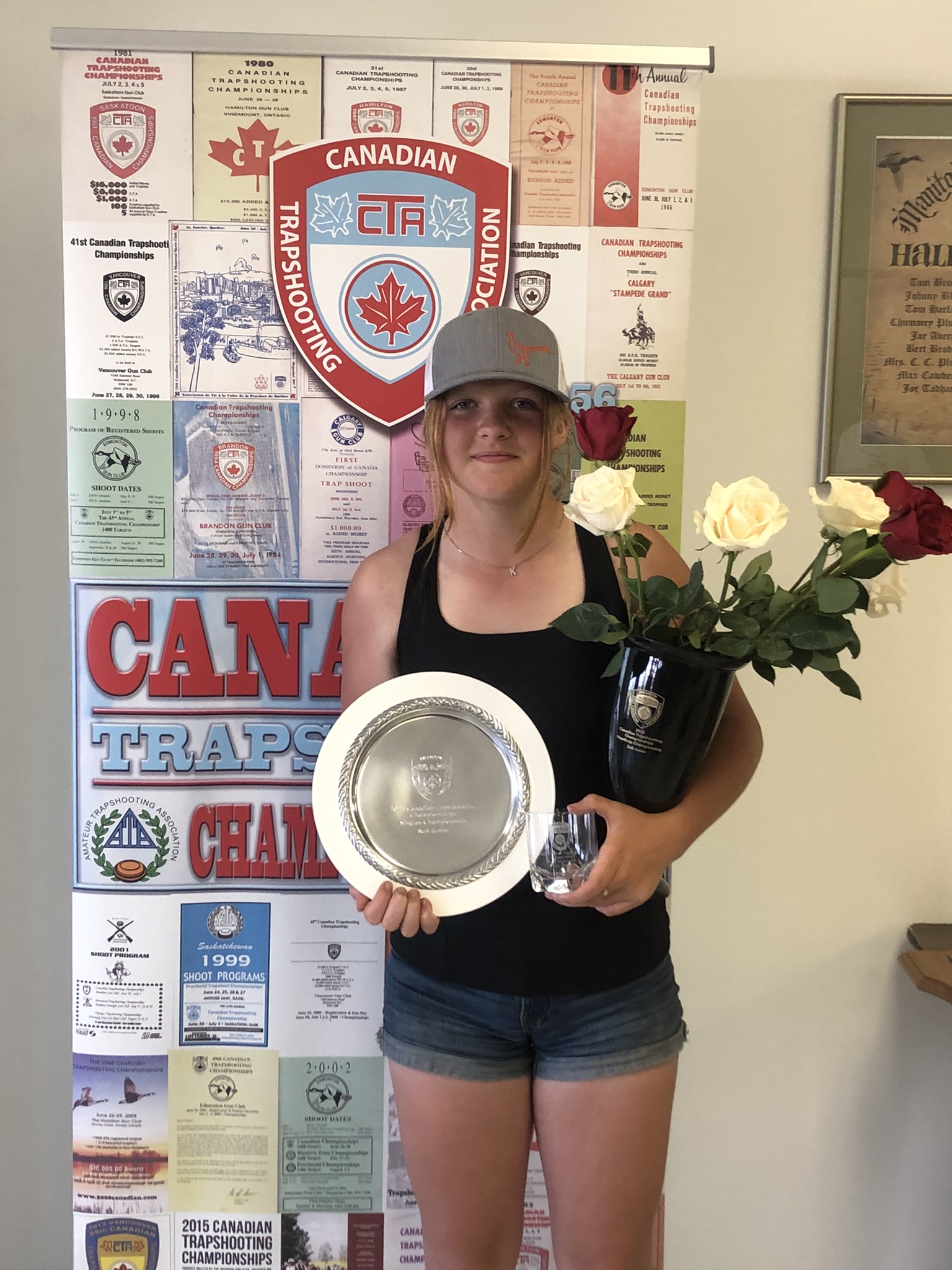 Junior Connor Bish, Lady I Katie Jones, and Junior Gold Rylan Bower won their respective categories awards in the Singles Championship. The trio also won their category awards in the Handicap, Doubles and High All Around.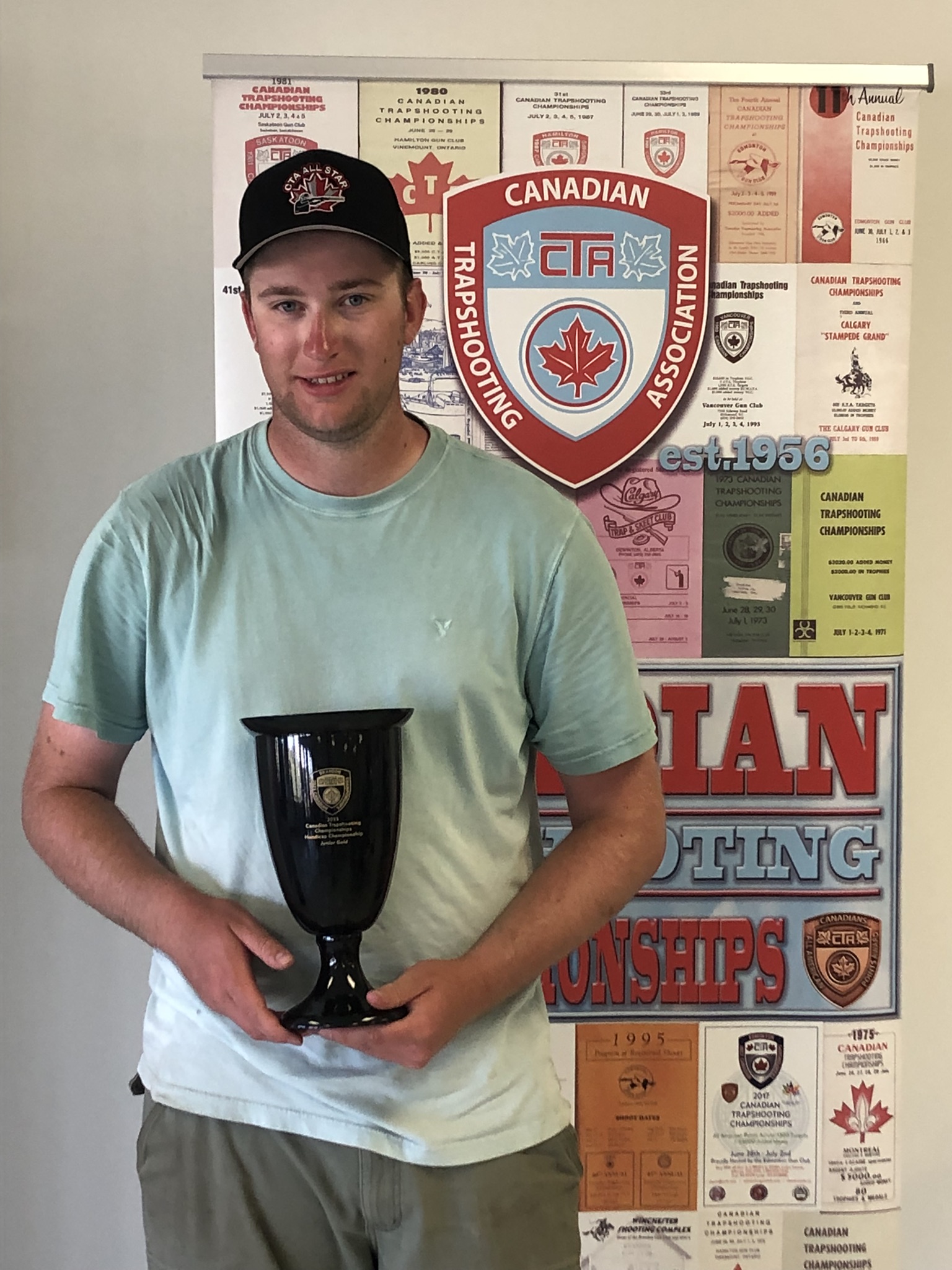 In the Singles Classes, Ron McConnell, the 2022 Senior Veteran Champion, won AA Class with a 197. North Dakota's Rich Nelson won B Class Open and son Wyatt won C Class Open. In D Class Closed it was Peter Tucker with his first Canadian Championship trophy.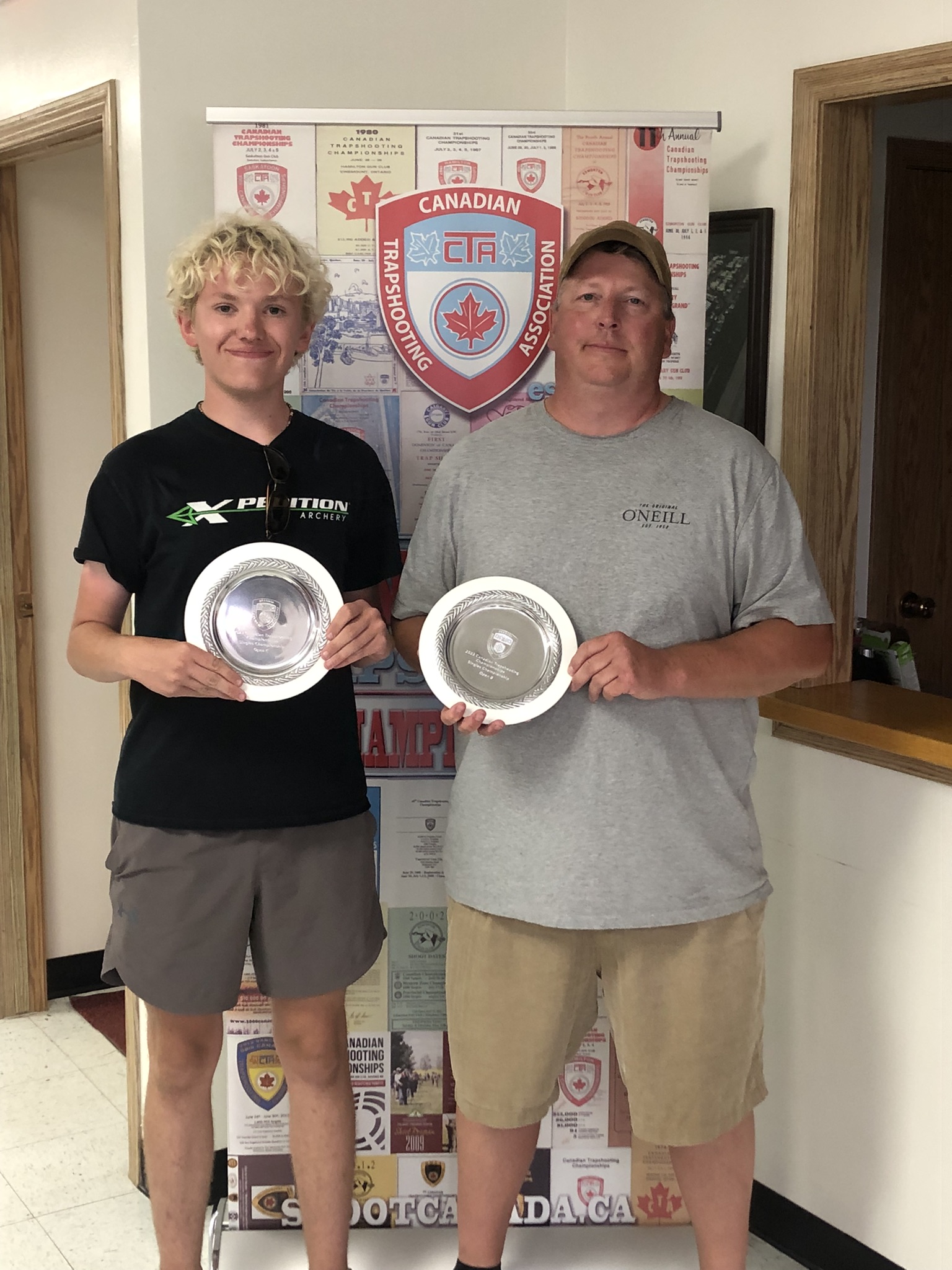 In the Doubles Championship, Ritchie Joynt won Open Champion with a 98. One target behind Ritchie was Randy Hunt for the Doubles Runner-up Closed win. Also in the Doubles Championship, Logan Halldorson won Sub Junior while dad Jeff won C Class Open after defeating Justin Cherewyk in a shoot-off. Shwan McNeil posted a 94 to win Sub Veteran and Gerald Whitehead won his first Senior Veteran title with a 96.
Shane Vaughan won the Canadian Handicap Championship with a 97, repeating his 2004 win. One target behind Shane in this year's championship was Open Champion Barry Johnston. Pat Lamont's 95 secured Runner-up Closed.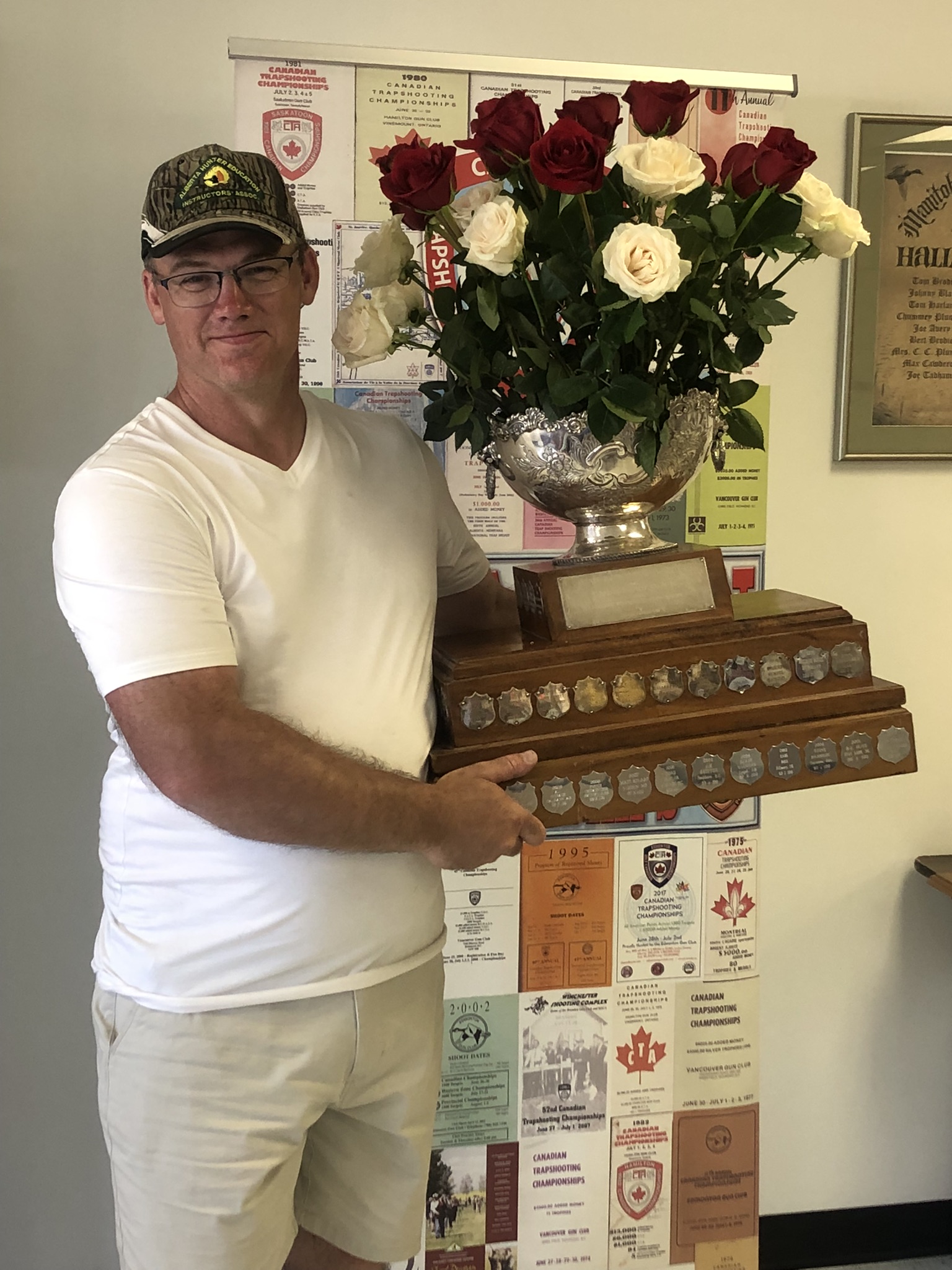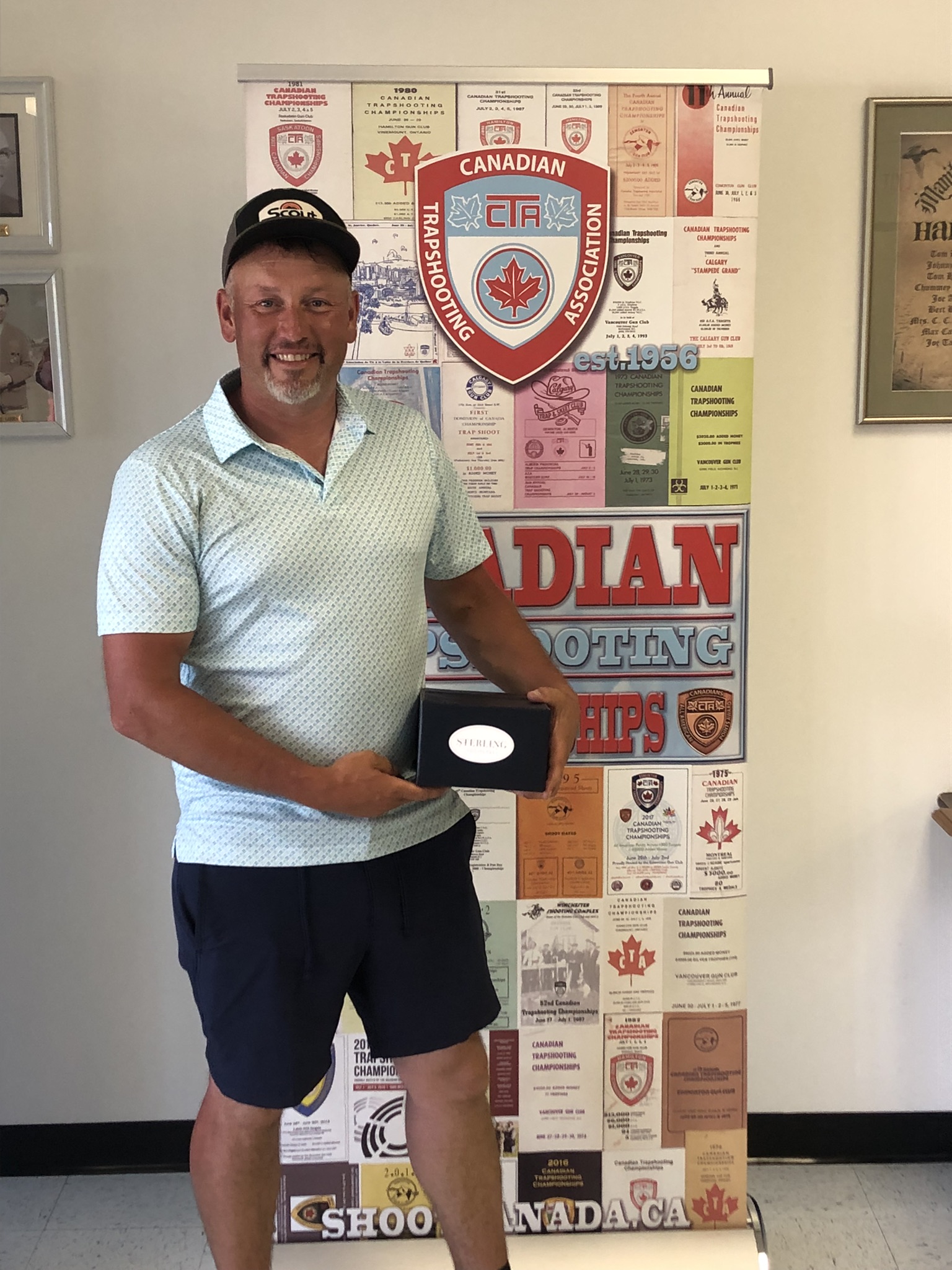 After the shoot-offs in the 5 way tie of 94s, it was Randy Hunt for Open Runner-up, and placing 3rd through 6th were Robert Pankiewitz, Jessica Marthaller, Jason Sparwood and Tyler Brown.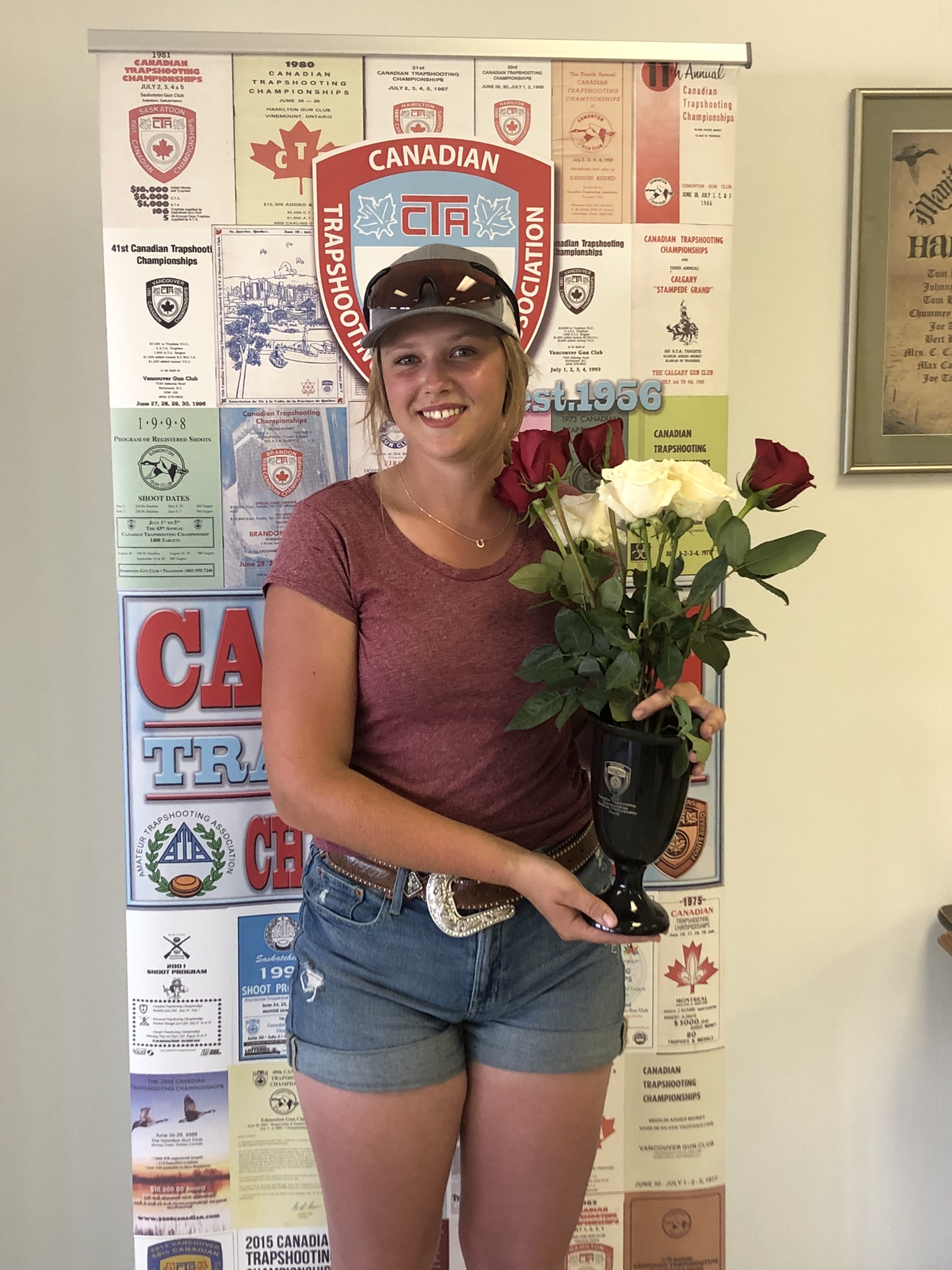 Category shooters also posted great scores in the Handicap Championship. Julia Marthaller won Sub Junior with a 93, Connor Bish won Junior with a 95 and Rylan Bower won Junior Gold with a 96. Emily Brown won Lady II with a 94 and Brian Blades won Veteran with a 93. Sub Veteran Randy Douez and Senior Veteran Rodney Stuart won their categories with 92s.
Pat Lamont won the High All Around Championship with a commanding 394. Open Champion was Randy Hunt with a 386 and Runner-up was Barry Johnston with a 384. In the High Over All, it was Pat Lamont again for Champion with his 982 and Barry Johnston with a 961 for Open Champion.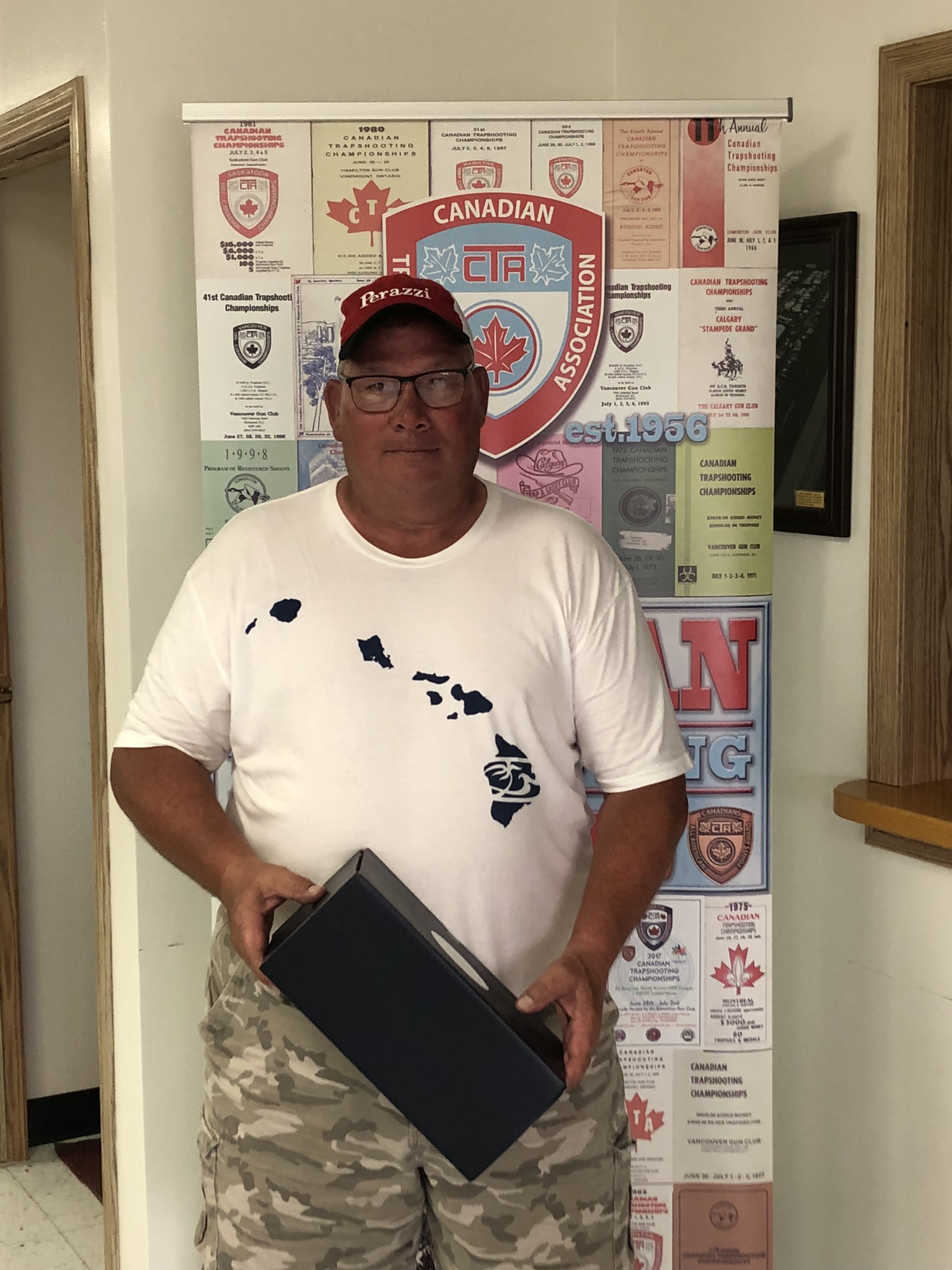 Shoot Highlights
The Canadian Trapshooting Association held their Hall of Fame Induction during the shoot. Pat Lamont and Susan Nattrass were inducted in the Shooter Category. Lamont was present to accept and gave a heart felt speech. In particular, Lamont thanked dad Rob for his support during his shooting career. Nattrass joins dad Floyd in the CTA Hall of Fame but was not present to accept. She prepared a video for the occasion which was played for all in attendance. Harry Humby was inducted posthumously in the Contributor Category. Harry's wife Francine accepted on Harry's behalf and thanked everyone for the honour. Congratulations to all inductees.
The 2024 Canadian Trapshooting Championships will be held at the Vancouver Gun Club June 26 through to June 30, 2024. The 2024 shoot will be a PITA shoot with cross registration available to ATA members. The CTA, the Vancouver Gun Club and the British Columbia Trapshooting Association are working together to make the 2024 shoot a success. The Vancouver Gun Club will also be celebrating their 100th Anniversary in 2024 so this is a great time to be back in Vancouver for Canada's national trapshooting championships.
At just about every shoot there are shooters that shoot personal bests, get their first 25, 50 or 100 straight, earn yardage, win their first trophy or just shoot well. Congratulations to everyone that hit a shooting milestone at this year's shoot.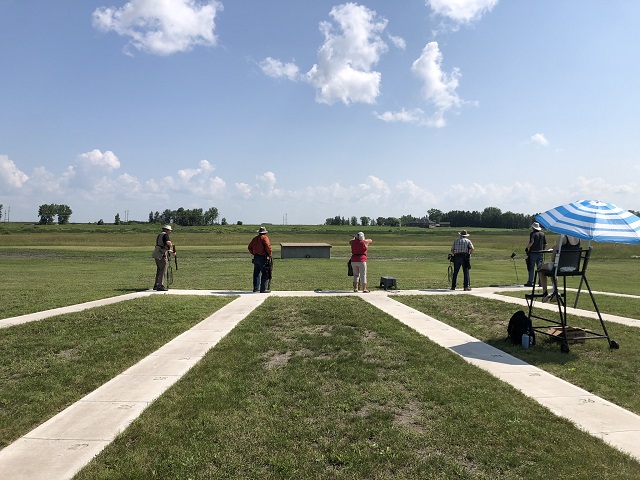 At this year's shoot, the number of Sub Junior, Junior and Junior Gold shooters present was particularly noticeable. It was great to see and an encouraging sign that trapshooting is appealing to younger shooters. In total there were 4 Sub Juniors, 5 Juniors and 5 Junior Gold shooters in attendance. That represents 11% of the total shoot demographics; impressive numbers for our Canadian Championships. It was also encouraging to see 8 Lady I and 4 Lady II category shooters. These 5 categories alone made up 22% of the shoot attendees.
The Marthaller family stood out for all the good reasons at this year's shoot; in particular for posting great scores. Sub Junior Julia, Junior Jessica, Junior Gold shooter Hanah and Lady I category shooter, and mom Sarah, all had a great shoot. Julia, shot exceptionally well and won Canadian Sub Junior in the Singles, Handicap and High All Around. Not to be undone, Jessica won 4th in the Handicap Championship. With such a large group, Sarah rented a U-Haul trailer to get them, and their ammo and guns, from Mossleigh, Alberta to the shoot.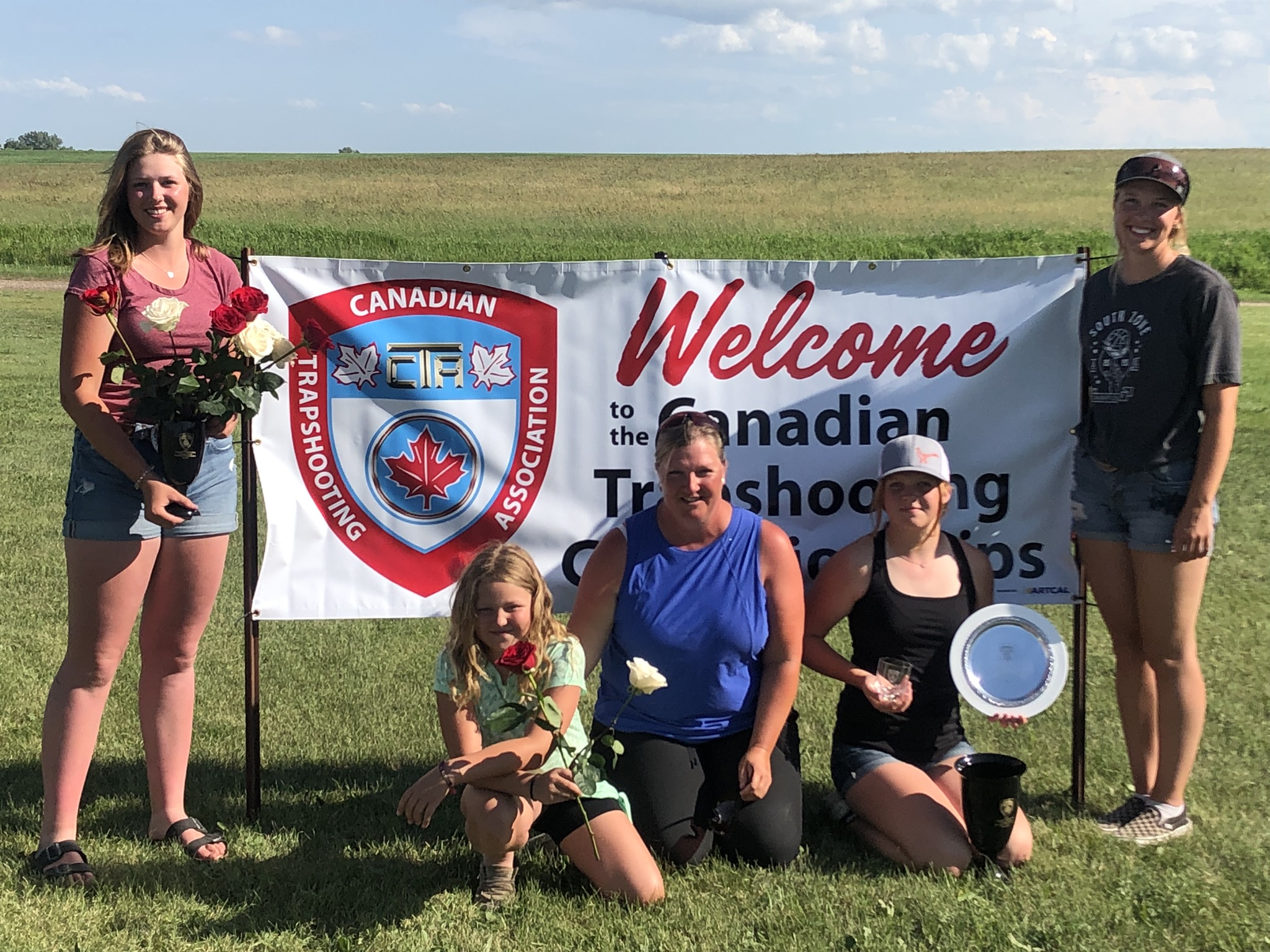 Connor Bish, another Junior shooter from Mossleigh, also shot well and the won the Junior title in all 4 Championship events. Good shooting Connor.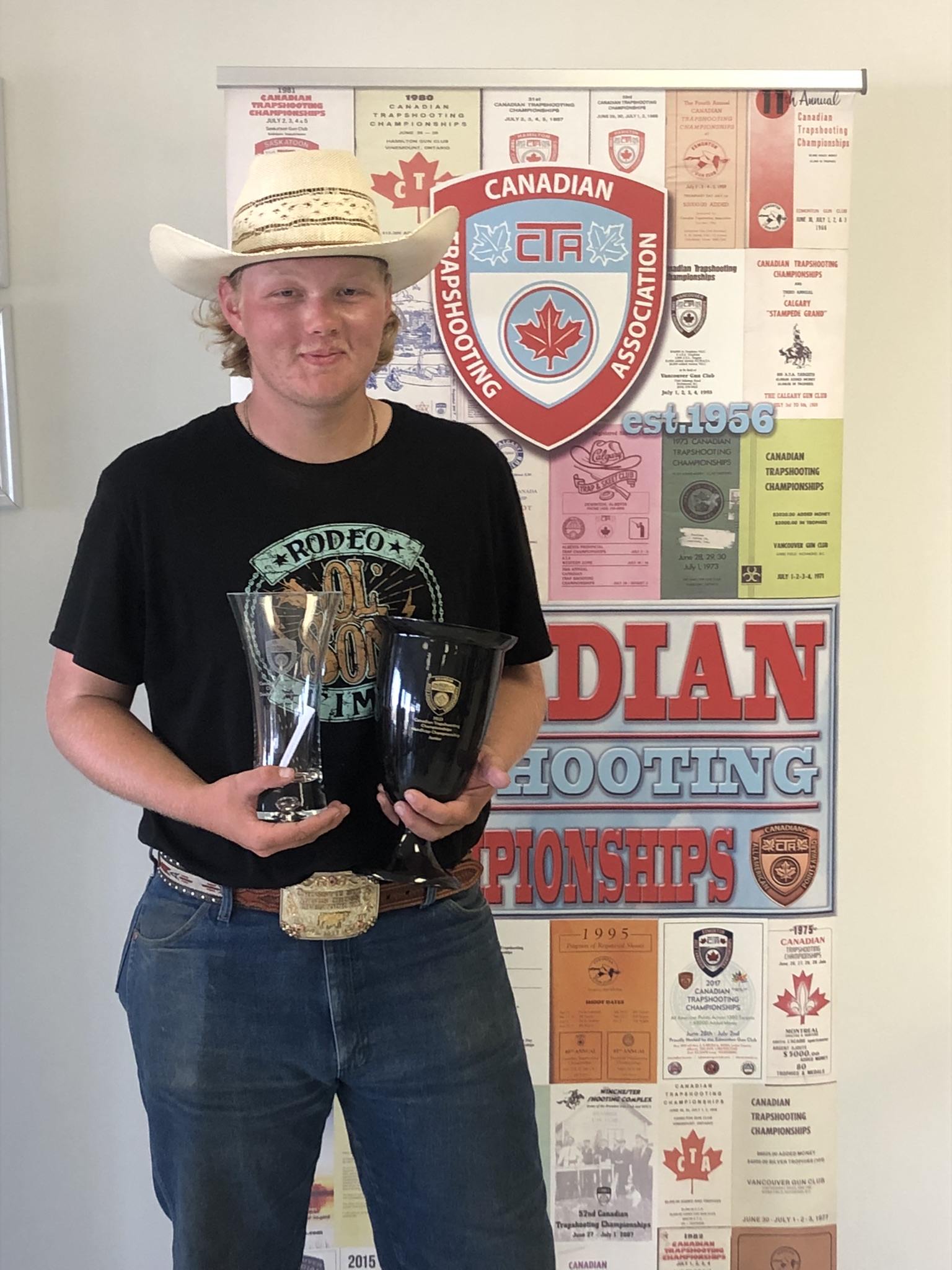 The parents, mentors, coaches and gun clubs that support these young shooters deserve recognition for their dedication and efforts. Thank you for all that you do. Sarah's role in that effort goes beyond just being a parent. Sarah works at the Calgary Firearms Centre where she mentors new shooters and youths in the shooting sporting sports. In Sarah's words, "it's an awesome job."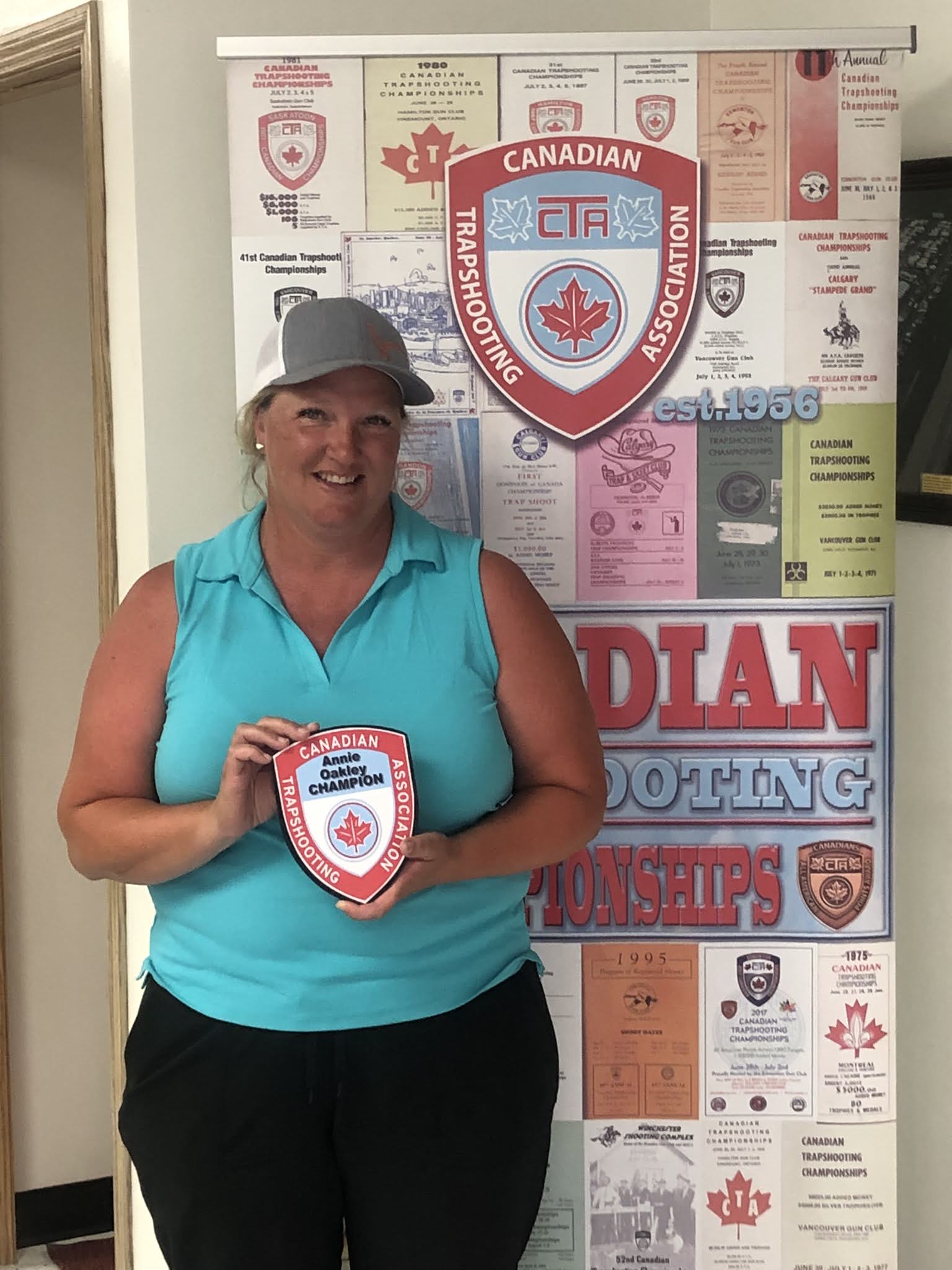 Shoot Results
Day 1. Kahl Boll Singles. Pat Lamont Handicap. Pat Lamont Doubles.
Day 2. CTA Class SIngles. CTA Preliminary Handicap. CTA Class Doubles.
Day 3. Canadian Singles Championship
Day 4. Canadian Doubles Championship
Day 4. Canadian Handicap Championship
Provincial 5 Man Team
Canada Cap Challenge
For details on the Mackintosh Award click here.
Shoot Photos